Rumah bagi beberapa universitas yang diakui secara internasional, Korea Selatan telah mendapatkan pengakuan luas sebagai tujuan studi luar negeri bagi siswa. Selain lebih terjangkau dibandingkan dengan belajar di Amerika Serikat atau Inggris, bangsa ini juga kaya budaya dan terbuka bagi siswa untuk mempelajari budaya mereka. Klik di sini untuk alasan lebih lanjut mengapa anda harus belajar di Korea Selatan!
Namun, sebanyak yang kita semua ingin memiliki pengalaman belajar di luar negeri yang sempurna dan menyenangkan, namun belajar di negara asing menimbulkan tantangan yang tak terelakkan yang timbul dari hambatan bahasa dan perbedaan budaya. Selain itu, kita juga cenderung tidak mengetahui bagaimana cara untuk berinteraksi dengan siswa lokal dan siswa internasional. Di sinilah Flying Chalks masuk untuk membantu Anda merancang pengalaman belajar terbaik di luar negeri dengan berbagai layanan kami yang komprehensif!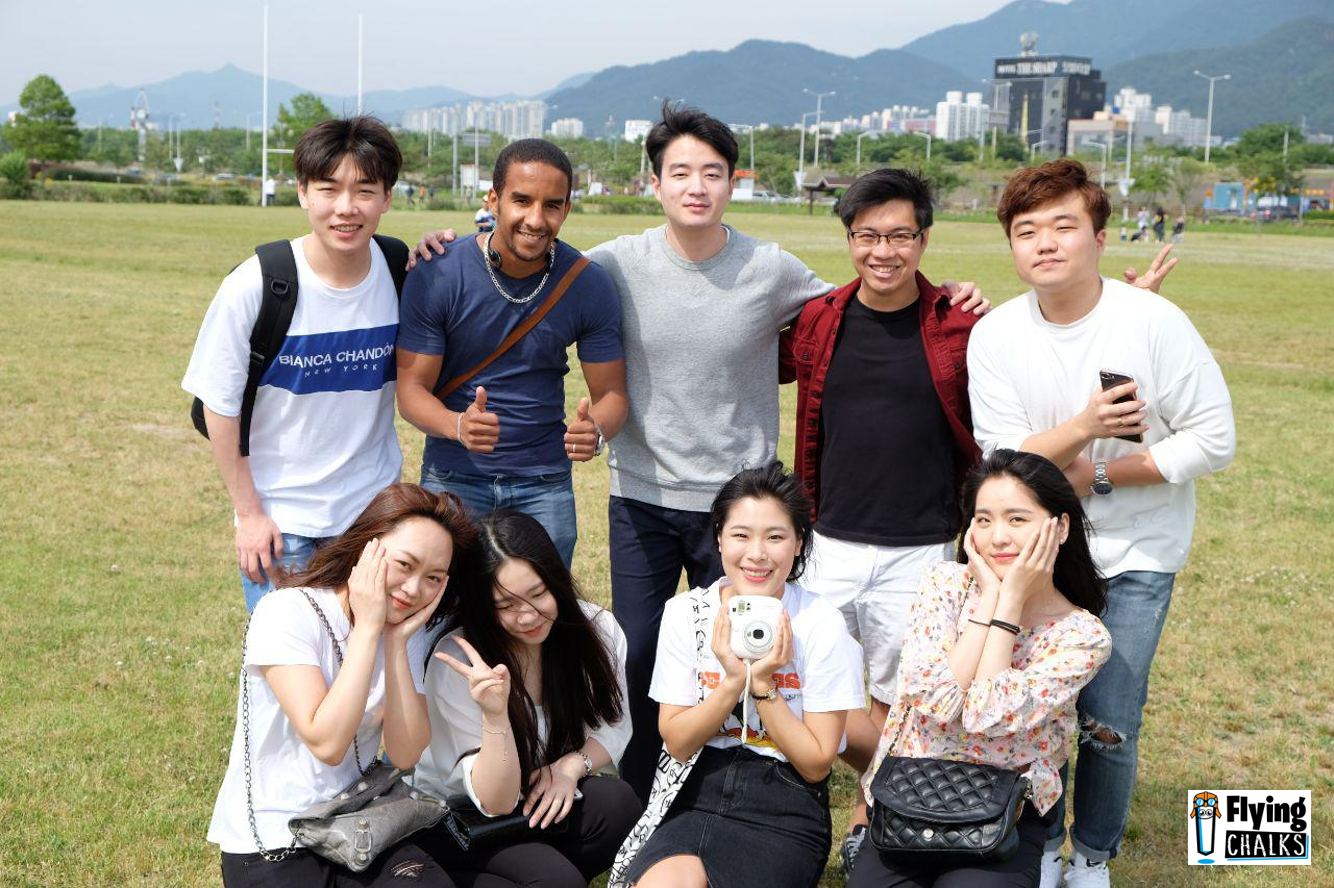 Flying Chalks outing di Busan, Korea Selatan.
Bagaimana Kami membantu anda:
Menemukan universitas terbaik untuk anda
Ada lebih dari 220 universitas swasta dan nasional di Korea Selatan. Dan dengan banyak pilihan yang tersedia, menemukan satu universitas yang paling sesuai bisa menjadi dilema besar. Gunakan pengetahuan team lokal kami untuk mempersempit pilihan dan tentukan universitas mana yang paling cocok untuk Anda.

Tingkat keberhasilan pendaftaran yang lebih tinggi
Jangan ambil resiko. Manfaatkan keahlian dan jaringan mitra universitas kami yang luas di Korea Selatan untuk menikmati peluang keberhasilan masuk yang jauh lebih tinggi daripada jika anda melakukannya dengan opsi lain!

Tim support lokal Korea yang dapat berbahasa Ingris
Avoid all the unnecessary confusion and frustration with direct access to our English-speaking team based in Korea. Simply reach out to them whenever you need advice during your studies in Korea and be assured a prompt response.

Cakupan layanan pendukung yang komprehensif
Belajar di luar negeri melibatkan lebih banyak pekerjaan daripada hanya aplikasi universitas. Jangan khawatir karena kami membantu Anda dalam aplikasi VISA Anda, pencarian akomodasi, dan masih banyak lagi! Anda dapat melihat tabel di bawah ini untuk informasi lebih lanjut..
Belajar di Korea Selatan sangat terjangakau dan biaya yang harus dikeluarkan hanya sebagian kecil jika dibandingkan dengan negara seperti US & UK!
Biaya Pendidikan
Program bahasa Korea: USD $900 - $1,500 untuk satu semester (10 minggu)
Gelar Sarjana (S1): USD $3,000 – $9,000 rata rata per tahun
Master: USD $3,500 – $10,000 rata rata per tahun
Biaya Lain Lain
Biaya aplikasi universitas (satu kali): USD $500
Biaya program (satu kali): USD $480 - $980
Biaya Hidup
Akomodasi: USD $250 - $600 per bulan
Makanan: USD $3-5 (makan di kampus) dan USD $6-10 (makan di luar)
Transportasi: USD $40 – 70 per bulan (sebagian besar siswa tinggal di dekat kampus sehinga dapat menghemat banyak biaya transportasi!)
Inilah layanan kami untuk memastikan anda memiliki pengalaman belajar di Korea Selatan yang tak terlupakan
Studying in South Korea is highly affordable and merely a fraction of costs compared to countries like the US & UK!
Tuition Fees
Korean language program: USD $900 - $1,500 for one semester (10 weeks)
Bachelor's degree: USD $3,000 – $9,000 a year on average
Graduate's degree: USD $3,500 – $10,000 a year on average
Other Fees
University Application fee (one-time): USD $500
Program fee (one-time): USD $480 - $980
Cost of Living
Accommodation: USD $250 - $600 per month
Meals: USD $3-5 (eating on campus) and USD $6-10 (eating out)
Transportation: USD $40 – 70 per month (most students stay within walking distance from school campus and can save a great deal on commuting fees!)
Here are what we do to ensure you have an unforgettable study abroad experience!
University placement
University applications can be torturous with their countless deadlines and standard protocols. Save yourself the unnecessary confusion or hassle as we guide you in preparing all the required documents for your application.

VISA Application
Travel with peace of mind as we assist you in your VISA application.

Accommodation
Feel the relief when accommodation is no longer a pressing concern as we assist you in finding a perfect home for your stay, free-of-charge!

Dedicated advisory team
Get direct access to our English-speaking team based in Korea and be assured a prompt response. Simply reach out to them whenever you need advice during your studies in Korea and you will have nothing to fear even in a foreign environment!

Travel Discounts
Take the chance to explore Korea while you're here! With us, you can maximise the fun as you enjoy exclusive discounts to attraction tickets, tours, and transportation!

Access to Flying Chalks platform
Receive full access to our Flying Chalks platform, where the answer to urgent queries or information you need about Korea and its universities is just a click away.

Access to Flying Chalks community
Discover and meet students from around the globe who can be your best companions while studying abroad. In addition, receive special invites to join outings and events to make your stay even more memorable!

Internship & Student Ambassador opportunity
If you're on the lookout for work opportunities to enhance your academic experience, here's a bonus for you. Should you demonstrate potential as a student during your time in South Korea, you stand a chance at being recruited as a Flying Chalks Intern or Student Ambassador!
---
Apply now for a free consultation to kickstart your study abroad journey to South Korea!