By
Ji Young
10 July 2017
안녕하세요, 저는 현재 싱가폴 난양폴리테크닉 학교에 재학 중입니다. 활기찬 분위기 속에서 수업이 진행되고 있어 교환학생을 즐겁게 보내고 있습니다! 싱가폴은 나라가 작지만, 그만큼 편리하게 지하철을 타고 도심을 둘러보기 좋다는 장점이 있습니다. 현재 싱가폴을 점점 더워지고 있지만, 학교 안 냉방시설은 정말 잘 되어있기 때문에 문제없이 생활하고 있습니다! 또한 싱가폴은 말레이시아, 인도네시아 등과 가까워 주변국가를 여행하기 좋습니다. 말레이시아의 조호바루는 버스로, 인도네시아의 바탐섬은 페리를 타고 당일치기 여행을 다녀온 적이 있었는데, 재미있고 새로운 경험이었습니다!
중국, 말레이, 인도 등 다양한 문화가 공존하고 있고, 그만큼 서로의 종교도 존중한다는 점에서 정말 인상 깊었습니다. 현지학생들이 먼저 적극적으로 많이 다가와 주어서 매우 고마웠고, 친구들이 한국예능프로그램, KPOP에 대해 관심이 많아 한류열풍을 실감할 수 있었습니다. 동남아시아에 위치해 있기 때문에 아보카도를 비롯하여 다양한 과일과 주스를 저렴한 가격에 즐길 수 있어 좋았고, 태국음식, 인도음식 등 이국적인 요리도 가까운 곳에서 쉽게 접할 수 있어 색달랐습니다. 싱가폴에 방문하게 된다면, 우리나라 갈비탕과 비슷한 바쿠테, 그리고 널리 알려져 있는 칠리크랩과 씨리얼프라운을 꼭 먹어보시길 추천합니다!
Hello everyone! I'm currently studying at Nanyang Polytechnic, Singapore. The classes are going on with energetically, so I'm now enjoying my exchange student life. Although Singapore is quite small, but it has its own strong point that we can look around the heart of the country easily by MRT. Now the weather of the Singapore is getting hot, but all of classes are air-conditioned. What's more, Singapore is close to other countries such as Malaysia or Indonesia. Recently, I've been to Johor Baru, Malaysia by bus and Batam -island, Indonesia by ferry. It was exciting and refreshing memory for me.
It was impressive that a variety of cultures including Chinese, Malay and Indian coexist in one country and they respect their religion each other. I was so thankful for local friends because they came to me first. Also, they have a lot of interests in Korean TV show and K-pop, so I could feel 'Korean wave' in person. Since Singapore is located in Southeast Asia, so it was great that I could enjoy various kinds of fruits and juice including avocado in cheap price. In addition, I could easily experience exotic Indonesian and Thai foods as well. If you have a chance to visit Singapore, I recommend you to try 'bak kut teh' which is similar with '갈비탕', famous local food 'Chili Crab', and Cereal Prawn.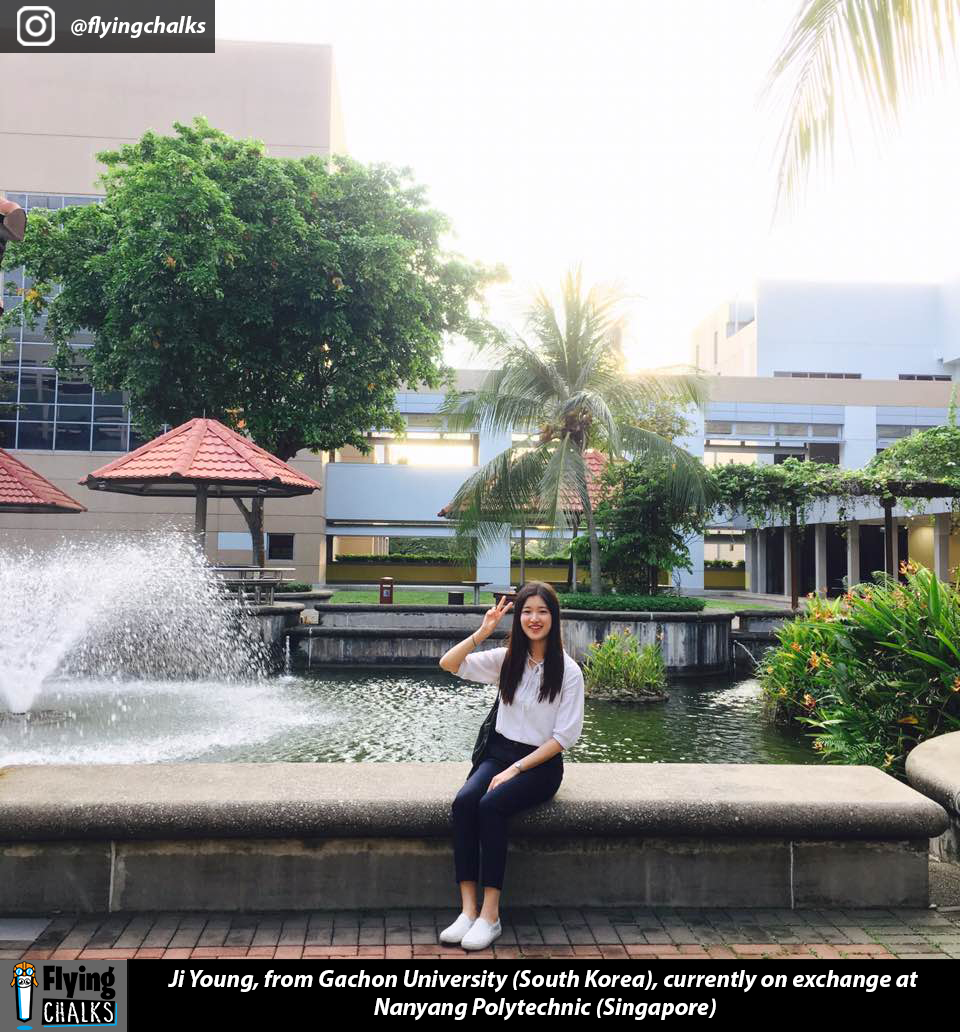 Ji Young, from Gachon University (South Korea), currently on exchange at Nanyang Polytechnic (Singapore)
Enjoy what you have just read? Sign up at Flying Chalks to receive more study abroad and travel content from us!
Share your experiences in the comment box below!