By
Min Hee
01 October 2016

Hi! I'm an exchange student from Ewha Womans University, South Korea. It's been 2 months since I have been here in Singapore and I had so many wonderful experiences. I chose SMU because of the great location and the modern campus.
However, I think the best part in SMU is the students! Students in SMU are all very welcoming and warm. They were always ready to give a hand to exchange students.
I cannot leave out my experiences in CCA when I talk about my experience in SMU. I actually joined 4 CCAs which is a lot. But still, I don't think it is too much since there are so many interesting CCAs in SMU.
I was not really into sports in Korea but here, there were so many chances for doing variety of sports. So I made up my mind to experience everything what I haven't done before in SMU. First, joining trial session of the archery club was fun. Some of them thought I would be good at archery because I'm from Korea but that was a big misconception. Different from the stereotype, it was my first time doing archery and it was much more challenging than I expected. But it was really fun so now I'm planning to learn archery more when I go back to Korea. Also, I've currently joined the cue sports club and it was great learning how to do cue sports because I've never learned cue sports so professionally before. I'm kind of confident that I can beat my friends in Korea now. However, it was very surprising that students in SMU are so busy doing their assignments and stuffs but at the same time putting much effort to CCAs.
Classes were so different here in SMU compared to universities in Korea. At first, I was pretty shocked when I realized that all of my courses were held in seminar rooms. It's not a usual thing to attend a lecture in seminar room in Korea. Moreover, 'name tents' were really unfamiliar to me since we don't have such thing in Ewha.
In SMU, I try to concentrate on the professor's lecture because they just call out our names anytime they want and ask questions about my opinion. Another different thing is that SMU students really do participate a lot. Classes are always full of energy. It 'might' be because of the participation points but anyway, students in SMU doesn't hesitate to ask questions or to talk about their opinions. Now I'm trying to be one of those students instead of sitting behind.
It's quite tough and challenging studying in SMU due to so many assignments and team projects but still, there are so many things I learned (especially from the students) and enjoyed in SMU. Moreover, every experience in SMU made me broaden my horizon and develop myself. So I think it was a great choice to choose SMU as my host university!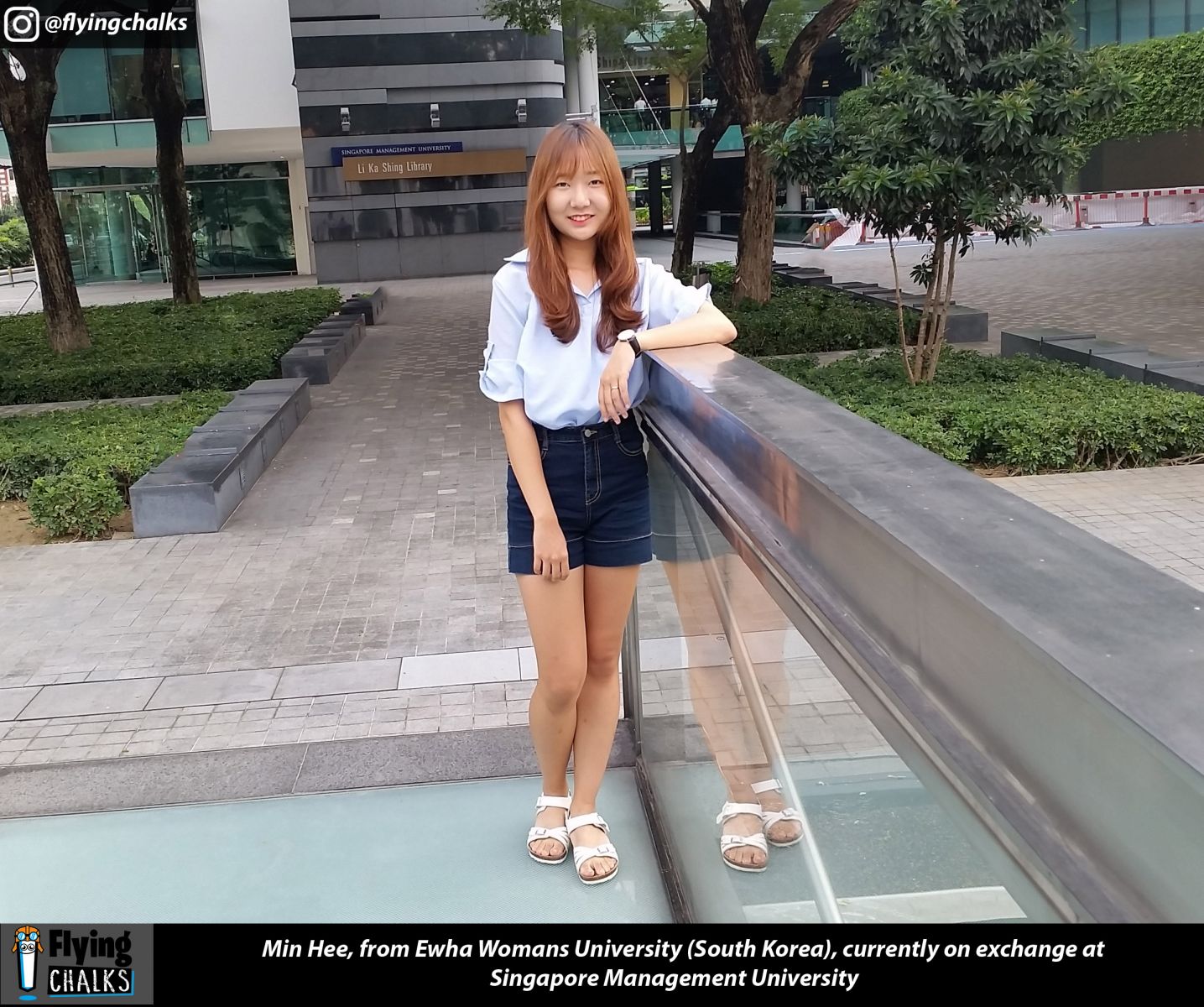 Min Hee, from Ewha Womans University (South Korea),
currently on exchange at Singapore Management University.
Enjoy what you have just read? Sign up at Flying Chalks to receive more study abroad and travel content from us!
Share your experiences in the comment box below!