By
Midori
21 December 2016
Going on an exchange is definitely a great way to step out of routine life and get some fresh perspectives. My exchange term in National University of Singapore has turn out to be a highlight of 2016.
From the teaching system, lifestyle, or even climate, I found life in NUS tremendously different from my home university, University of British Columbia in Canada. Compared to the relaxed pace in Vancouver, people in Singapore seem to be more lively in many aspects.
A lot of emphasis is put on participation in class. All kinds of presentations are constantly required of students. Students need to present on not only their research regarding course topic but also process to solve given questions. I took one Economics classes in which students are separated into several groups and debates are held in weekly tutorials to help students better understand course topic.
Besides adapting to the school system, it took me a long time to get used to the sudden pouring rains and temperature difference between indoor and outside. In NUS, jackets and cardigans are meant to be wore in lecture halls against air-conditioned low temperature, while shorts and T-shirt are what you need for outside.
Living in residential hall is absolutely a unique Singaporean experience. There is always a lot of activities going on. Every residents are all proud of their hall and they are familiar with each other. They always "jio" (Singaporean word of "invite") me into all kinds of activities. In sports games held among halls, everyone living in hall would go support their team, wearing T-shirts in their hall color. Relationship among neighbours turns out to be much closer than those who live nextdoor, more like family.
Singapore has been well known as a "Garden City". However, Singapore is also a sleepless city. On the day I finished all my exams, my friend "jio"ed me to join them in night cycling. We started in East Coast Park at around 11pm, cycled through major streets across Singapore and stopped several times for suppper. I was surprised to see how shops and restaurants are open overnight and still full of customers. Tiredness were all gone the moment I saw the sunrise on our way back to where we rent the bikes. I would remember that moment all through my life, as though I was running towards the sun.
I had so much fun from exchanging in NUS. It's snowing in Vancouver and I miss sunshine in Singapore already.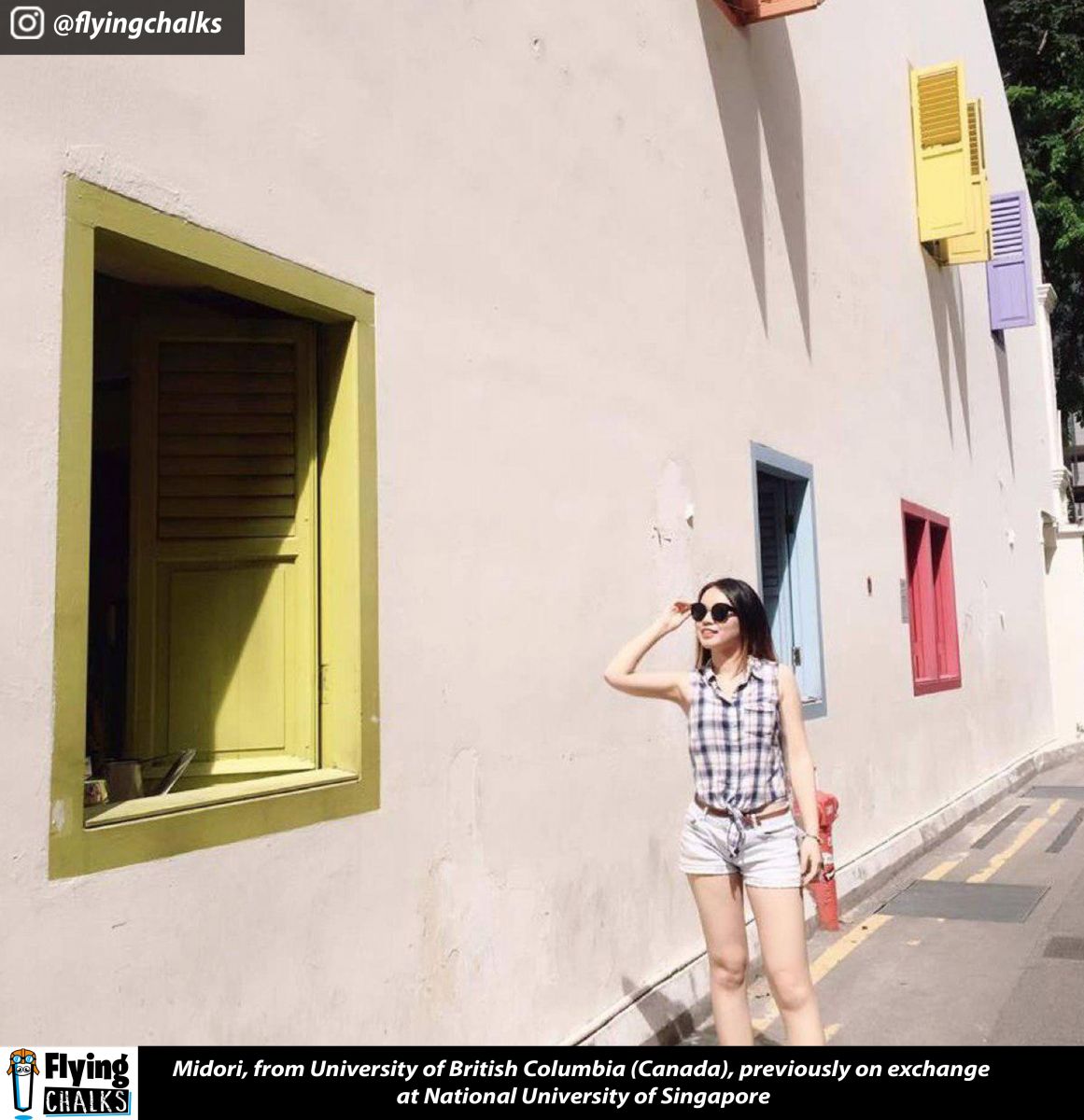 Midori, from University of British Columbia (Canada), previously on exchange at National University of Singapore
Enjoy what you have just read? Sign up at Flying Chalks to receive more study abroad and travel content from us!
Share your experiences in the comment box below!